Welcome to the website of Musa Sanneh - Taxi Driver and private Tour Guide in Gambia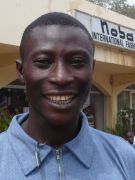 On this website you can find various tours and information about the beautiful and friendly Gambia.
Only a select few tour ideas are listed on this website, but there are many more available. If you're interested but cannot find the tour you are looking for please get in contact with Musa to find out more.